What is Cloud CMA?
A Comparative Market Analysis is one of the most important tools you have as a real estate professional. Cloud CMA is the real estate CMA software that will make you look awesome in front of your clients and help you get the listings you want.
Setting up my account (logging in for the 1st time)
To set up your Cloud CMA account, first go to accessRedwood.com and click the CMA Icon on the top row: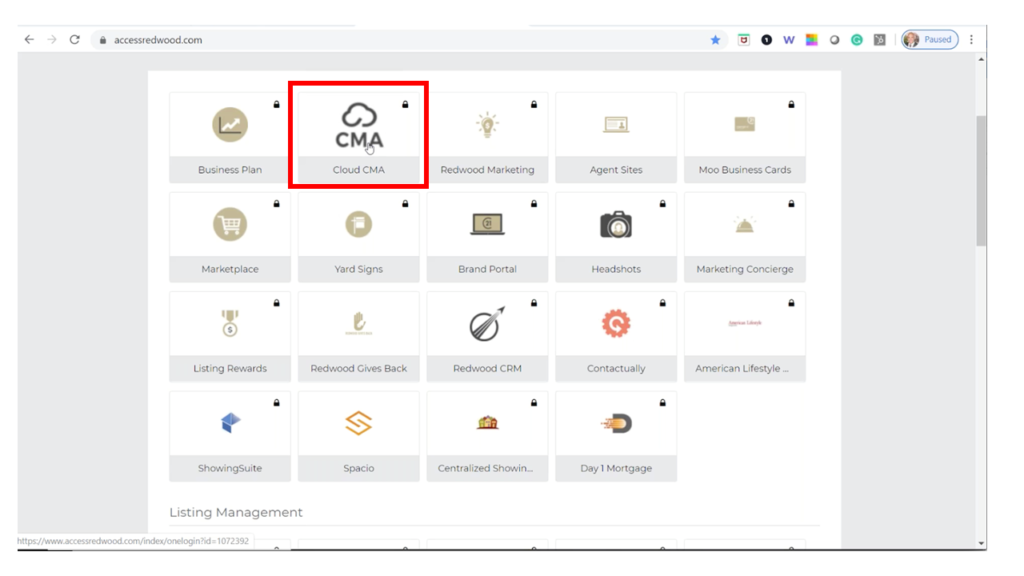 This will launch a set-up wizard.
Step 1: Choose your MLS from the drop-down menu (sorted by STATE).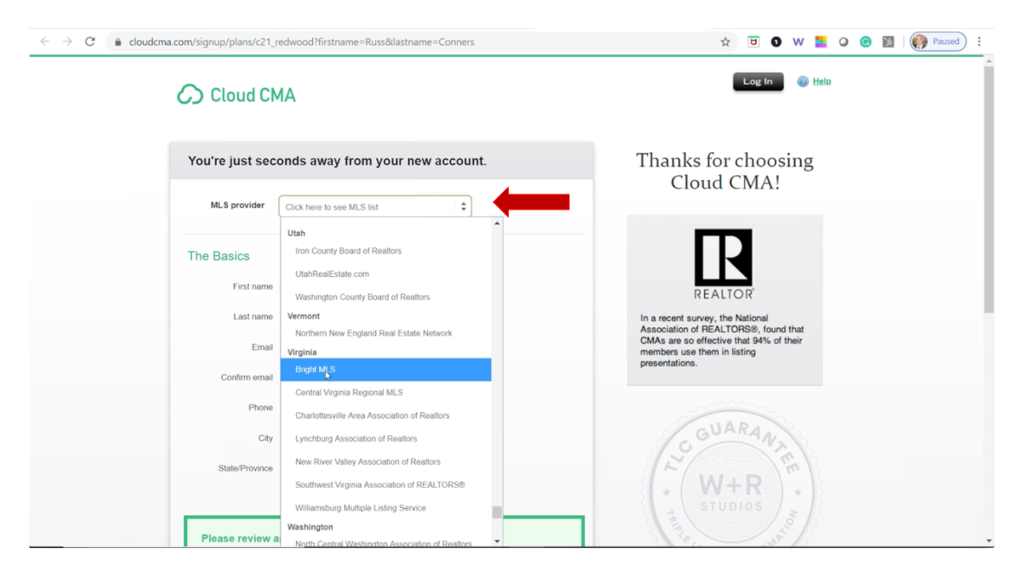 Step 2:  Complete the remaining fields. The only fields that are REQUIRED to be filled in are:
First Name
Last Name
Email
Confirm Email
Click the "Accept Terms" box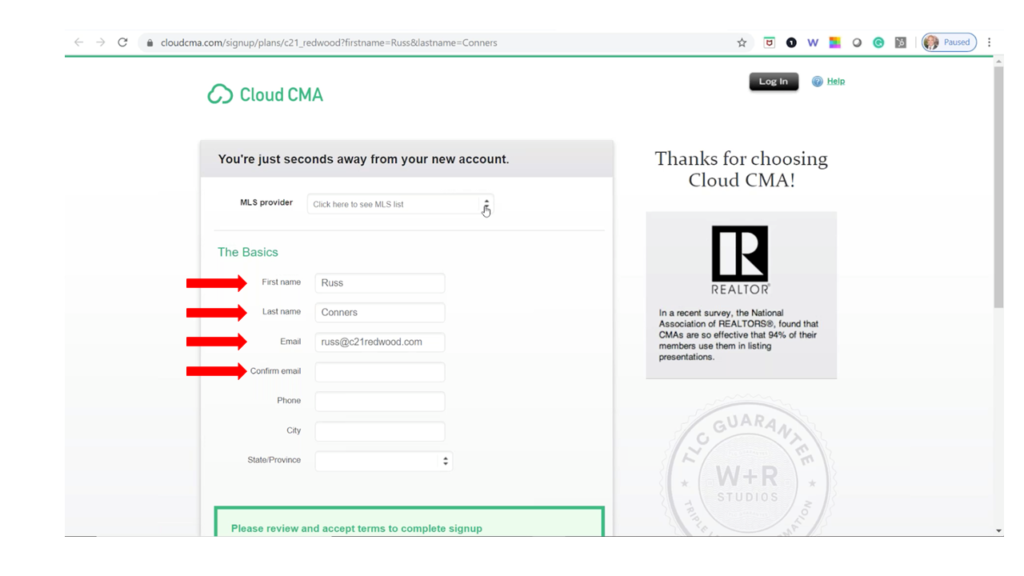 Step 3:  After you've set up your account, you'll be led to a page to set up your basic report information.
NOTE: You should skip the "Your Photo" and "BRE Number" fields.
We'll load your photo in a later step and the BRE Number does not apply to our area. 
You can also skip the Upload Customer Logo field UNLESS you want to upload a personal or team logo to appear on select pages. The CENTURY 21 Redwood Logo has already been added as a default to Redwood accounts.
Be sure to click "Save and Continue"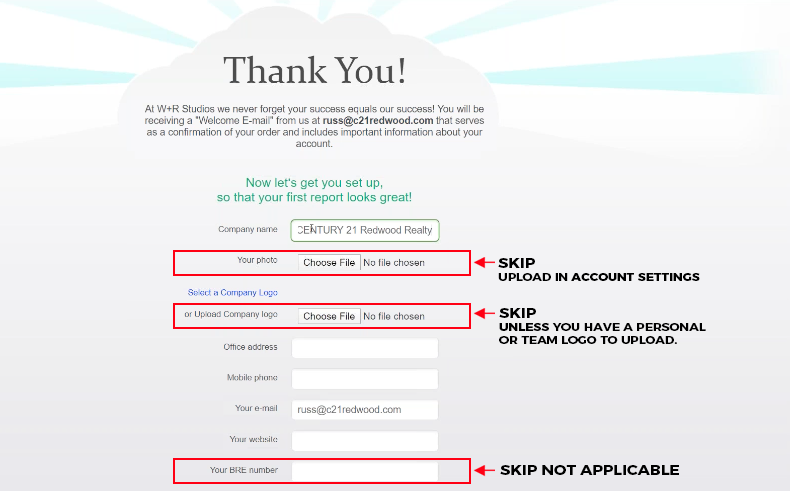 Step 4:  Upload photo and add or change personal information
Click the icon on the upper right corner of the screen and choose Account Settings from the drop-down menu

Click Change Avatar to upload photo
You can also add a personal or team logo on this page if you did not do so during initial setup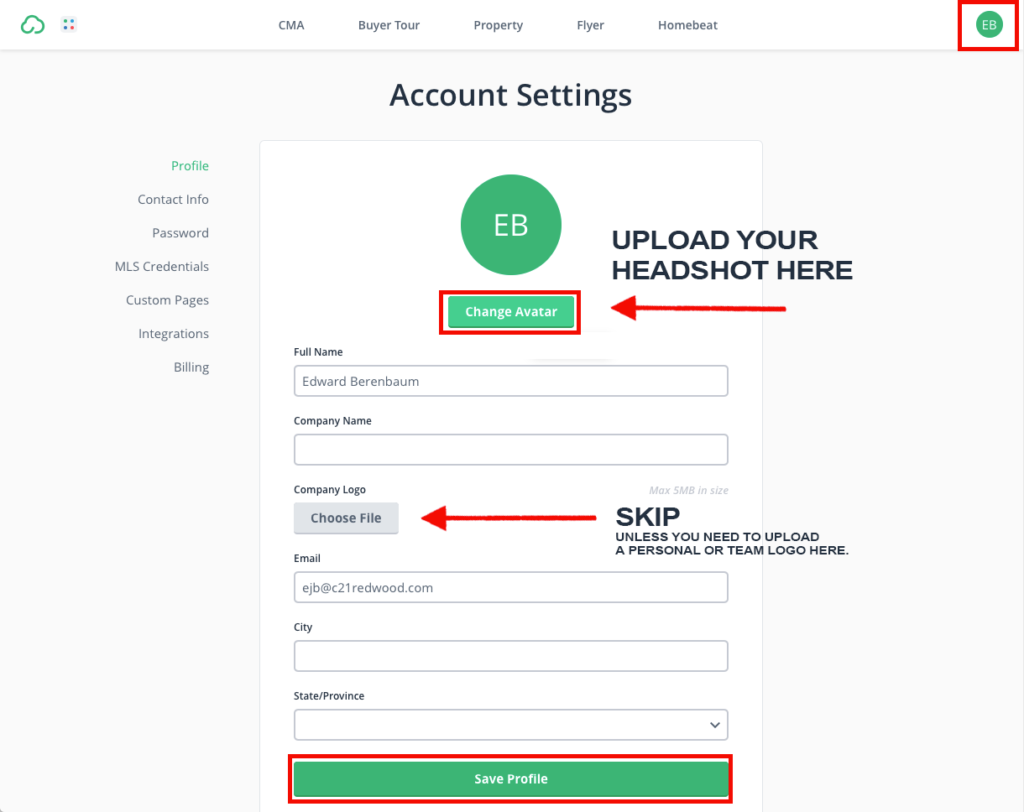 Account Settings is also where to go if you need help, click "Support Center" or choose "Learning Resources" if you'd like to watch step-by-step videos which will help you get the most out of Cloud CMA.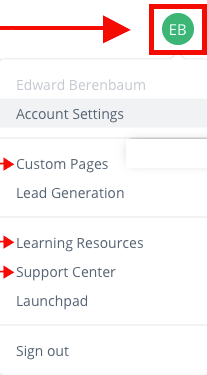 Building a CMA from brightMLS (preferred)
The preferred method to create a CMA in CloudCMA is directly from your brightMLS account.  After you associate your brightMLS account with your cloudCMA account on https://cloudcma.com/, creating a CMA from your brightMLS account is the easiest method to create a CMA. Perform a search in brightMLS and select the properties that you would like to include in your CMA.  Then, click the CloudCMA button to automatically import these properties directly into your cloudCMA account to complete your CMA.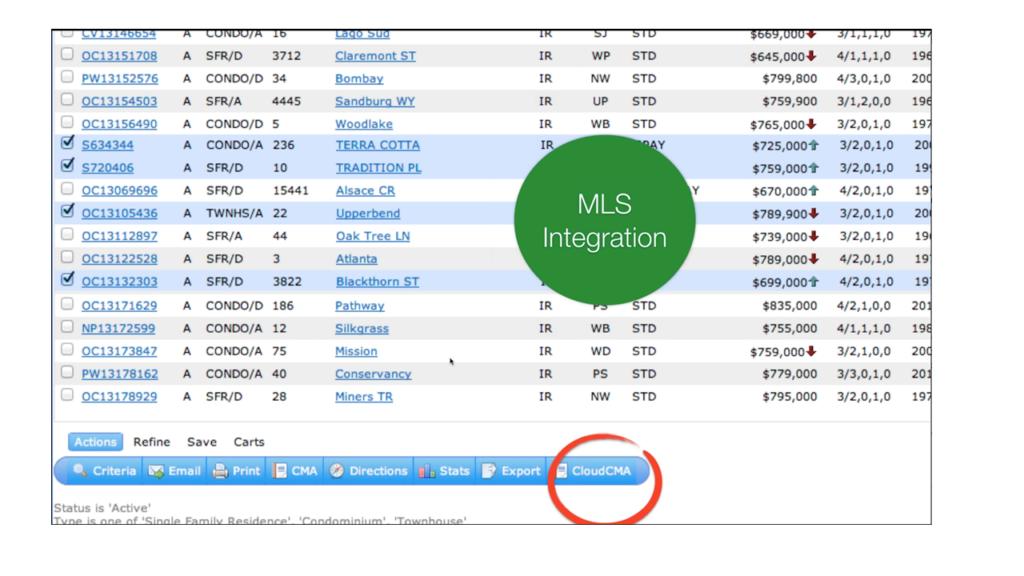 Building a CMA from CloudCMA website
If you prefer to create your cloudCMA reports directly from the cloudCMA website, access the website by clicking the cloudCMA icon on accessRedwood.  The following short video will demonstrate the steps to build a CMA from the website. Click HERE to view the video.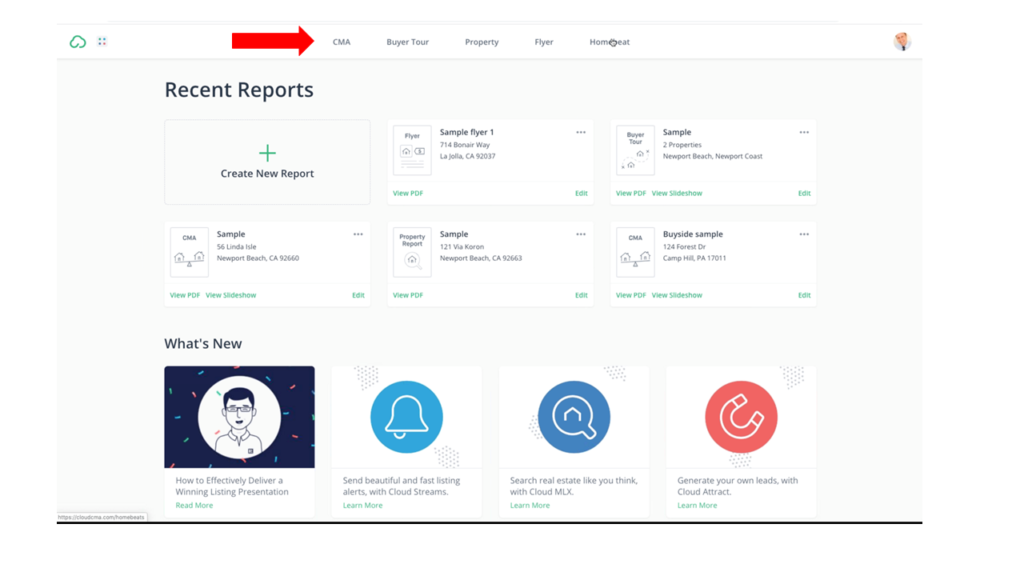 Don't Miss these CloudCMA Features (Hint – cloudCMA is more than just CMAs)
Adding my testimonials to my CMAs
On cloudCMA, agents can include both their realsatisfied and Zillow reviews!
Adding or Deleting CMA Pages
Pages highlighting the marketing specific to CENTURY 21 Redwood Realty are selected by default.  But users have the ability to add or delete pages by clicking the plus (+) or minus (-) symbol next to a selection. They can be dragged to reorder the pages.
If an agent wishes to add their own custom pages, click HERE to learn the process.
Online Valuation Analysis Page – Analyzes the accuracy of Zestimates for properties included in your CMA.  Can be used in a CMA or as an individual marketing piece.
Create a CMA Report by Email in 45 seconds 
It's easy!  Just email an address to [email protected]!  For instructions, click HERE.  You can also create create flyers, property reports and tour reports by emailing:
Additional Support
Have more questions? Visit the CloudCMA Support for detailed instructions and how-to's on using the platform. Click HERE
Want to take a enroll in a class or watch a video to teach you how to perform common tasks on CloudCMA, access CloudCMA Learning Resource portal by clicking HERE
Need to contact cloudCMA, use the Chat function in the lower right of the screen on http://cloudcma.com/ or email [email protected].